We'll Buy Your House in 7 Days!
For many home owners hearing that we'll buy your house in 7 days is exactly what you need to hear. There are a lot of circumstances that lead to home owners needing to sell their house fast. It is possible to sell your house in 7 days or less, but it doesn't happen often. It may be easy to sell a house quickly in other parts of the country but not in Jefferson County or Birmingham. It's important to have realistic expectations when selling a house. Let's discuss how you could potentially sell your house in 7 days.
The Process of Selling a House in Birmingham
In order to sell a house in Jefferson County and Birmingham a Sewer letter is needed. This is a result of the bankruptcy from some years ago. A title company will need this letter from the sewer department to insure the property with title insurance. Unfortunately, your property could be connected to a septic tank, but the title company will still require the letter. This is to have documentation that no liens from the sewer company are present on the property.
The closing attorney will submit the request for the letter. The turn-around time for the attorney to receive the letter is typically between 7-14 days. The sewer department works hard to get this information to the attorney however, there are thousands of request each month for sewer letters.
In order to receive the letter with a faster turn-around you can go to the sewer department after the attorney requests the letter and pay an expedited fee. This fee is typically $80 per page. It's not uncommon to have multiple pages so beware the fee may reach hundreds of dollars.
Every property can have liens, encumbrances, etc. For this reason, a title search is needed to make sure there aren't any adverse effects associated with the property. An owner may not have paid their garbage fees or taxes last year. A title search will provide this information. Any information that is found that encumbers the property will need to be remedied prior to the sale or at the time of sale. If an owner chooses to remedy at the time of sale these encumbrances will be deducted from the proceeds the owner will receive at closing.
Once the search is complete a title policy needs to be prepared to insure the property. The process of a title search and writing the title policy typically takes between 48 hours to 2 weeks depending on what is
discovered in the process.
There are many investors that require home inspections. This is a standard item when purchasing a home. A home inspection is designed to thoroughly inspect the house and all of its components. It's important to have all utilities on during a home inspection. This will produce a complete inspection report and give the investor a better idea of any issue they may need to remedy upon purchasing the house. A home inspection typically takes between 3-10 days to complete once it has been ordered.
This is the area where many owners believe doesn't apply to them. Unfortunately, it does apply in every situation. There are many investors that can estimate themselves without a contractor coming to provide an estimate. If an investor can do their own estimate it typically means they have completed many purchases and renovations. It doesn't always mean this though. We prefer to have a contractor provide an estimate when we purchase a house. The reason we prefer this route is we don't want to speak for someone else.
There are many houses that only need cosmetic updates such as paint but every house some work at a minimum. The reason is due to not everyone having the same taste as the owner selling their house. This is not to say your house isn't beautiful and completely updated. This means that we simply may need to have white walls, so it appeals to everyone not just the people with your taste.
A contractor's estimate typically takes less than 48 hours to receive.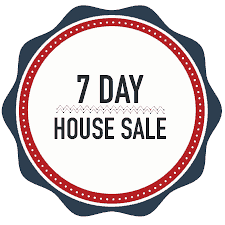 How Can We Buy Your House in 7 Days?
In short, everything has to fall in place perfectly. We would have to get an expedited sewer letter, hurry the home inspector, rush the contractor, and beg the title company to turn in the title as fast as possible. This is for a cash transaction only. If the purchase was being financed, it would take even longer since an Appraisal would be required, and mortgage companies typically don't rush their process.
It is possible to buy a house in 7 days but it's not easy to pull off. In fact, I would estimate that less than 5 percent of houses purchased actually sell in 7 days.
Why Do Companies Say They Can Buy a House in 7 Days?
It's a marketing gimmick. There are many companies that are looking for home owners in distress and need a quick solution to their problem. It's unfortunate that these companies advertise this way.
Home Buyers Birmingham has been in business in Birmingham long enough to understand it is better to under promise and over deliver than it is to mislead someone.
If you are wanting to sell your house to a company that will respect your situation and tell you what they are able to do – we invite you to contact us below. All we ask is a little bit of information from you. Once we have the information, we will call you and discuss your situation and needs with you.
We look forward to hearing from you and hopefully purchasing your house.