Tips on How to Sell a House
Instead of sitting back and wondering what you can do, take a look at three tips you can learn about how to sell a house quickly.
Knowing how to sell a house can be a challenge for any homeowner, especially if they need to sell fast. The longer your house sits on the market, the longer you're responsible for the mortgage, related expenses, and upkeep.
Staging is where you put the home in its best possible light to make it attractive to prospective buyers. Contrary to what most people think, you don't have to go overboard to stage your home properly. It's really up to you and how far you want to go with it.
Staging can be as simple as painting interior walls, clearing away children's toys from general view, or just simply removing any personal items like photos. The key is to allow prospective buyers to envision themselves living in the home. They don't want to feel like they will be "invading" someone else's living space.
Of course, the amount of staging that you do will depend largely on the condition of your home. If it's in bad shape, such as holes in the walls, you will want to take steps to do the necessary repair work.
Accurately Determining the Sale Price
If your house is priced too high for the market, then it will likely not sell anytime soon. No one can truly know what a home will go for when all is said and done, so it's essential to do some research.
Look into the details of similar homes that have sold in your neighborhood. Try to at least determine an average of a few of them so you can price your home as accurately as possible.
If you are in a hurry to sell, your best bet is to price your home at the lower end of the spectrum. Rest assured that prospective buyers are doing similar research and they will see your home as a value buy.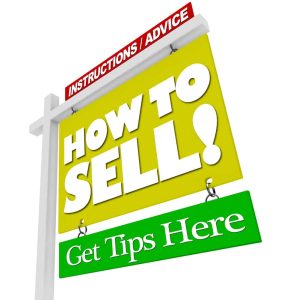 Should You Make Repairs or Disclose Any Potential Issues?
If your home is in bad shape or needs some repair work, do you need to invest in making repairs or should you just disclose the damages to buyers?
Knowing what to do in this situation is really up to what is best for your specific situation. If you can afford to spend the money and take the time to make repairs, you will be able to sell your home at a higher price.
However, if you want to sell your home fast, then you will need to disclose any damages. But, you should also expect a buyer to ask you to come down in price.
Next Steps on How to Sell a House
We've detailed a few tips above on selling your home quickly, but again, the steps you need to take will vary depending on your situation.
If you have questions about how to sell a house, contact a member of our team by filling out the form to the right.